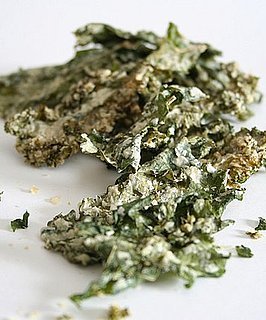 These chips often sound scary to anyone not used to eating green things, but honestly they are melt-in-your-mouth delicious. And they are SUPER easy to make.
Kids, friends and significant others will love them. I love them to nibble on before dinner is ready.  But the best part is if you want to eat the whole bunch, you can because its kale and its so good for you!  One bunch of kale for $2-$3 and 25 minutes of time, not much sacrifice at all!  Let me know what you think!
Ingredients
1 bunch of curly organic kale (green or purple)
1 – 2 tablespoons of good olive oil
Sea salt
Directions
Pre-heat the oven to 250 degrees.
Take tthe kale and remove the very tips of the stems. Rinse. Then either use a salad spinner or a clean kitchen towel and dry the leaves THOROUGHLY…otherwise you're going to have soggy chips.
Place the well dried kale leaves into a mixing bowl. Pour the olive oil on top of the leaves and massage into the leaves well. Then take the leaves and place them together on a baking sheet. Sprinkle the leaves with a bit of course sea salt and place them into the oven.
Bake at 250 degrees for ~30 minutes until the leaves are crunchy. They are perfect when they have a nice crunch and melt in your mouth.
Note – I generally do not remove the entire stems of kale leaves, just to keep the prep work simple and quick. I will happily nibble around the stems if they are too tough. You however may prefer to de-stem the leaves for pop and enjoy satisfaction!